Benefit on the market from a strong partner for neutral proof of conformity.
Whether it is the tensile strength of upholstery fabrics, the colour fastness of textiles or the testing of clothing for human-ecological product safety: Independent quality assessments and compliance with harmful substance limit values play an important role in positioning on the market.
Our textile technology and chemical tests help you to comply with international standards, legal regulations and individual customer requirements. In particular, tests for harmful substances ensure effective consumer protection against chemicals that are used in textile production and can be detected as residues in the product.
We carry out our tests on raw, intermediate and end products of all processing stages of the textile production chain, including leather products and accessories. They are aimed not only at brand owners, retailers and textile producers, but also at importers and processors.
Our competence in chemical and textile technology tests: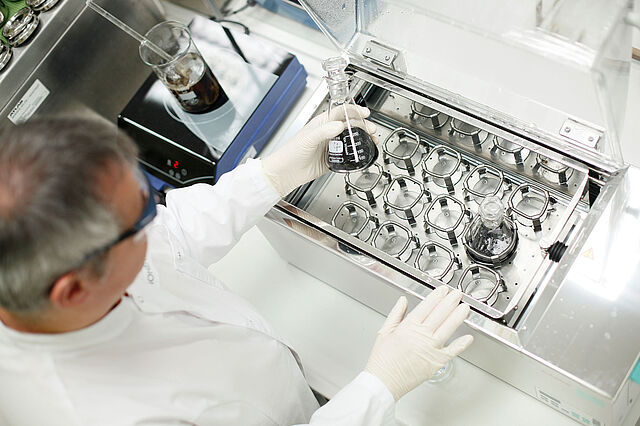 Checking the material quality of textiles (colour fastness, pilling, waterproofness, fibre fineness, dimensional stability, strength of fabrics, air permeability, abrasion test, washing tests, etc.)
Determination of fibre composition (Textile Labelling Act)
Tests for harmful substances according to REACH, LFGB, CPSIA or individual RSLs (Restricted Substances Lists)
Preparation of expert reports in the case of claims
Quality assurance through on-site inspection service
Textile marking and fibre composition
The exact determination of the qualitative and quantitative composition of yarns and textile fabrics forms the basis of the Textile Labelling Act.
Our fibre analysis and determination is done microscopically as well as mechanically and technically. It also includes the investigation of fibre damage, microfibre determination, qualitative gene analysis or complaint processing.
With the STANDARD 100 by OEKO-TEX®, we offer you a worldwide, independent testing and certification system for raw, semi-finished, and finished textile products at all processing levels, as well as any accessory materials used.
The test criteria are updated annually in line with the latest market developments and legal requirements, so that you are always on the safe side and therefore legally compliant with your products without having to devote your own resources for them.